"Clever, charming and insightful—
this book captures the keys that will
change your customer service
culture forever."
Ken Blanchard, coauthor of
The One Minute Manager® and Leading at a Higher Level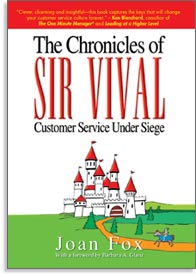 $19.95+ $2.00 shipping & handling
Volume Discounts Available.
Click here for details.

Why another book on customer service?… because customer service still stinks! Despite earnest efforts to improve service over the last decade, customers remain seriously disappointed undermining organizational growth, profits and ultimately survival in the marketplace.
Customer service expert, Joan Fox's, fun and engaging business fable reveals the real keys to extraordinary service. Inside these pages, you will encounter your organization masquerading in medieval costumes. You will notice amazing similarities between your customer service challenges and those of the Village of Celelot. And, you will find your solutions to better customer service, along with Sir Vival.
As the story unfolds you will learn specifically what to do to make your customers not only "get served" but "feel served." You will discover:
Why customer satisfaction is essential but not enough
The one thing you need to know to create loyal customers
The three steps on the path to an extraordinary customer service culture
The solution to keeping your existing customers
The actions you must take if you are serious about improving your customer service